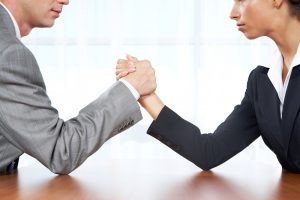 Written by Lyle Charles
Mediation is an alternative to dispute resolution and involves two or more parties meeting with a mediator to resolve their differences. The mediator is an outside party, hired by the consent of both parties. The mediator will sit with the parties and advise both sides on what are the potential advantages and disadvantages of making a particular decision. Mediators will avoid giving their verdict on a matter and focus on assisting both parties to reach an amicable decision. Although mediation is quicker than litigation, this method of dispute resolution has some disadvantages.
Lawyer – Private mediation does not require either party to have their lawyer present at sessions. Therefore, parties may negotiate settlements that are not always in their favor.
The agreement is legally binding – Although there are no lawyers present at mediations, the agreement is legally binding. Therefore, some parties may be hesitant to sign the agreement as they are unsure of the outcome.
Any disagreement can be mediated – Mediation can be used in any form of disagreement. Therefore, if a party is looking for a mediator with experience in their particular field, this may involve a thorough search.
The mediator is an outside party – The mediator is an outside party and often has no previous knowledge about the case, which means that both parties will have to provide sufficient information about their case, to get the mediator up to speed.
No judge – The mediator will not provide a solution to the disagreement. Instead both parties will have to reach a win-win agreement that leaves both parties relatively happy.
For a trusted mediator, speak to a reputed construction advisory services firm for further details.
____________________________________________________________
Lyle Charles is an expert in construction claims management for commercial and residential construction.